Steffen Baldo aka Ugly Drums first appeared on our radar with his brilliant release on Quintessentials last year.
Quite Frankful
was a well received 3 track EP that sold well (you'll need to dig about a bit to get a vinyl copy) which led onto more releases and remixes in 2012. He's has remixed
Broken - Andy Ash
's recent release on Black Key and
Mt Elephant
and Toby Tobias have both recently employed his skills on his new Quintessentials EP.
quintessentials 27: toby tobias - one night on mare street (ugly drums rmx) by quintessentials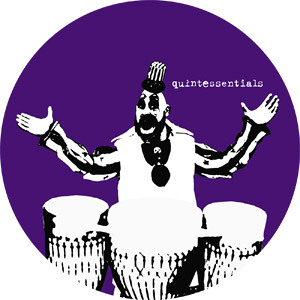 We thought it was high time to catch up with Ugly Drums and find out what floats his boat. He also put us a lovely disco mix together which you can listen to & download.
UGLY DRUMS DISCO DEVIANT MIX
PABLO: So tell us a bit about the mix, did you have any thing in mind when preparing the tracks?
Steffen UGLY DRUMS: Yes definitely, it always takes me some time to prepare a mix, finding tracks that fit together well and at the same time are telling a little story is my main goal, most of the time I'm not sticking to one particular style of music when doing mixes so I make my choices about which tracks to include into the mix more on the overall feel and vibe of the tracks

.

Do you have a similar approach to your production ?
No, my way of producing tracks is a mess, I wish I would have the same clear vision while producing which I have when doing mixes, its not that I don't know in which direction I want to go with a track or how to do things but a lot of it happens by error, by just trying things out and just going with the flow.
What can we expect from Ugly Drums in terms of releases in 2012?
Good question, I hope a lot :) ... some releases are in the pipeline, some remixes also, I finished a lot of music lately and for most of it I found a home. What I can definitly say is that a new release on Quintessentials will happen sooner or later this year which I'm very happy about because I like the label
a lot and working with them on the first release was one of the best experiences I have had.

What or who are your main influences musically?
That's a tuff one... I could go on and on and on about this question. in terms of genres, basically everything, stupid to say, I know, but I listen to all kinds of music from bands like motorhead or black sabbath to roy ayers and everything in between it just has to appeal to me in a certain form. When it comes to
electronic music i really like what the people in Chicago and Detroit are doing + also labels like firecracker or rush hour inspire me a lot because they got a sound to it but at the same time they are coming up with fresh aproaches.
What inspires you?
Good food, good drinks, walking around looking at things.
Name two things you would love to do this year?
Travelling, i really want to see Japan , Vietnam, China, and Thailand and I hope I'm able to visit one of them.
Second thing would be to improve my cooking skills, not that I'm a bad cook at time but getting better
and more defined would be great.

What are your top 3 movies?
I am a total movie maniac, watching movies is the thing i do most when not producing music so its not an easy one
to answer since there are so many great movies out there so i think it makes more sense to just list some genres
and the things i like about them.
First would be 70/80`s Italian comedys, I like all the movies by Adriano Celentano and Thomas Milian,
second would be horror movies, of course all the classics like Friday the 13th , night of the living dead etc.
I also dig all the movies/mostly remakes rob zombie came up with during the last years , captain spaulding ftw. :)
+ a lot of new French horror/thriller cinema is really good like martyrs or all the Gaspar Noè flicks
Finally I would asy Asian cinema, I'm a huge fan of Takashi Miike.
Thanks for the interview Steffen and for putting the mix together for us it's great.
UGLY DRUMS DJ Bookings/Remixes contact
The Unity Agency